TMX LINX: Exchange Submission Portal
A New Exchange Portal for Issuers
TMX LINX is a new centralized portal for issuers listed on the Toronto Stock Exchange and TSX Venture Exchange ("the Exchange") and other stakeholders to interact with the Exchange in an easy-to-navigate, secure and efficient manner. It is the single point of access for Exchange-listed issuers and their advisors to file submissions and correspond with the Exchange while having full transparency into the progress of their transactions from start to finish.
This web-based platform enables all transaction participants to manage the submissions, send and receive documents, communicate with the Exchanges, and manage payments, all through a user-friendly and highly secure system.
Have a question? Contact us at tmxadmin@tmx.com and we will be happy to assist you.

File and manage submissions online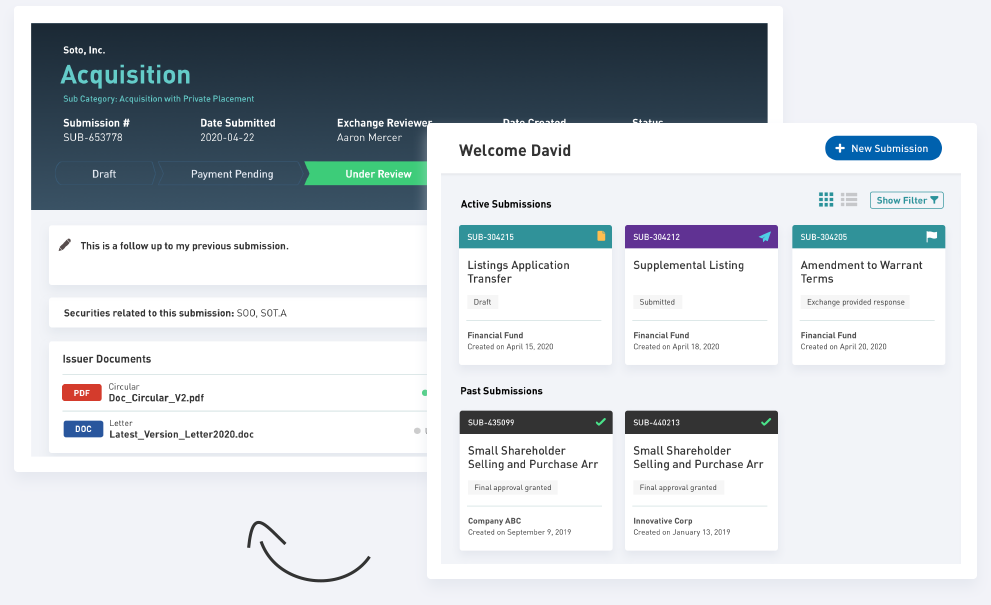 Intuitive system makes it easy to create and file submissions and correspond with the Exchange

View real time status updates and visibility of the Exchange reviewer assigned

Quickly identify requirements to expedite approval of transactions
Manage users and maintain full control over roles and permissions
Invite and manager user with a few simple steps

Grant relevant roles for individuals who require access

Maintain full control of submission access and visibility into the portal and issuer's submission history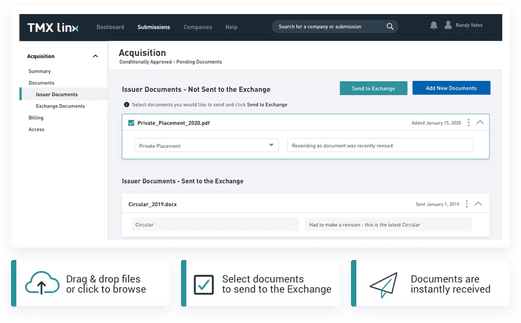 Securely upload, share and receive important documents
Easily upload relevant documents

Manage documents before they are sent to the Exchange and preview or download documents received from the Exchange

Intuitive document organization allows you to quickly find documents from past submissions
Communicate directly with the Exchange through the portal
Secure messaging system captures all communication between you and the Exchange

Additional email alerts help notify issuers and authorized users of all key changes to submissions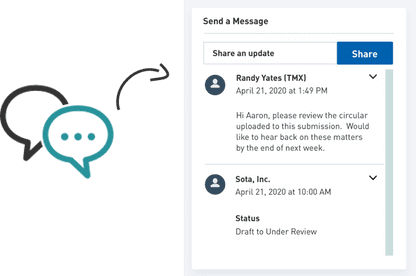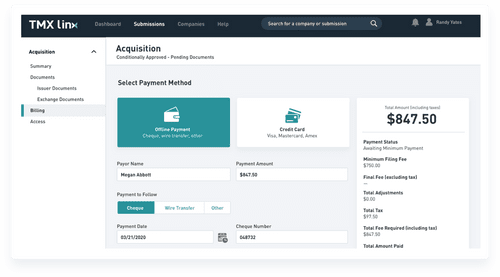 Make Payments online
Ability to make submission payments to the Exchange online

Keep track of billing and payment history
Our team is focused on supporting your listing

Learning Academy
We're constantly working on new ways to support the issuer community. Check out our frequently updated Learning Academy for some useful resources and to see what else we're working on.
Visit Learning Academy

TSX Trust
Whether you need help with Corporate Actions, Investor Service, or planning your Investor Meeting, our services are tailored to make your transactions a success.
Visit TSX Trust

Connecting with Investors
C-Suite at The Open highlights the unique perspectives of TSX and TSXV companies. Video interviews provide insight into how company are navigating the current environment.
Find out more