Trading Roundtable Report
TSX Venture Exchange Trading Roundtable
TSX Venture Exchange Trading Roundtable report captures participant recommendations on venture securities market structure
On March 5, 2019, TMX Group hosted a TSX Venture Exchange Trading Roundtable to hear how stakeholders view the market structure for venture securities. The resulting report summarizes the discussion, underlying themes, stakeholder recommendations, as well as how TSX Venture Exchange (TSXV) plans to address the participant recommendations.
TSXV is committed to helping and continuing to listen to our market participants, with a focus on transparency, regulation, and data. In response to the feedback from the 19-person roundtable, TSXV concludes the following:
Regulation M: TSXV will review Regulation M with the CSA and IIROC to understand its potential relevance to the Canadian market.

Short-selling: TSXV will consult with the CSA and IIROC on the potential for a re-evaluation of short-selling rules for TSXV-listed securities. The re-evaluation could be used to determine whether the tick test should be reinstated, or whether other short-sale restrictions may be warranted.

Trading from outside of Canada: TSXV is not responsible for the direct enforcement of trading regulation but believes that Canadian regulators monitor and enforce trading from domestic and foreign sources effectively. TSXV agrees that regulators and brokerage firms need to maintain their responsibility and gatekeeping duties over participants no matter the jurisdiction of the original investor.

Dark trading: TSXV believes that, if properly regulated, dark trading can be a useful option for certain investors, but we recognize that providing more education might help address concerns and misconceptions.

Data: TSXV will investigate options for providing alternative pricing data on its data platforms. TSXV also recognizes the importance of providing more education to investors and issuers about how to access consolidated (all Canadian trading venues) trading data on TMX platforms.

Intentionally misleading publications: TSXV believes that the policing of intentionally misleading research reports and company disclosure is important and notes that this is a critical issue that every major capital market globally is facing. TSXV is supportive of the CSA's efforts to investigate and regulate intentionally misleading short-selling research and company disclosure.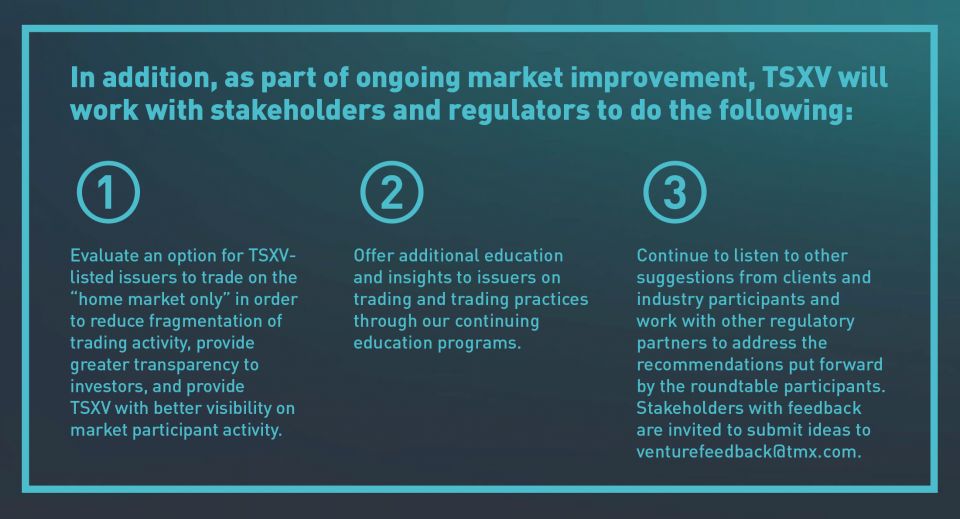 Read the complete report.