20th Annual Shorcan Charity Day Raises Over $630,000
January 19, 2018
January 19, 2018 (TORONTO) – Shorcan Brokers Limited (Shorcan), TMX Group's fixed income interdealer broker, held its 20th Annual Charity Day on January 18, 2018 raising more than $630,000. Each year, Shorcan donates revenue from the trading day to a variety of designated charities. Proceeds generated from yesterday's trading activity brings the total amount raised to over $9.1 million since the inaugural event in 1999.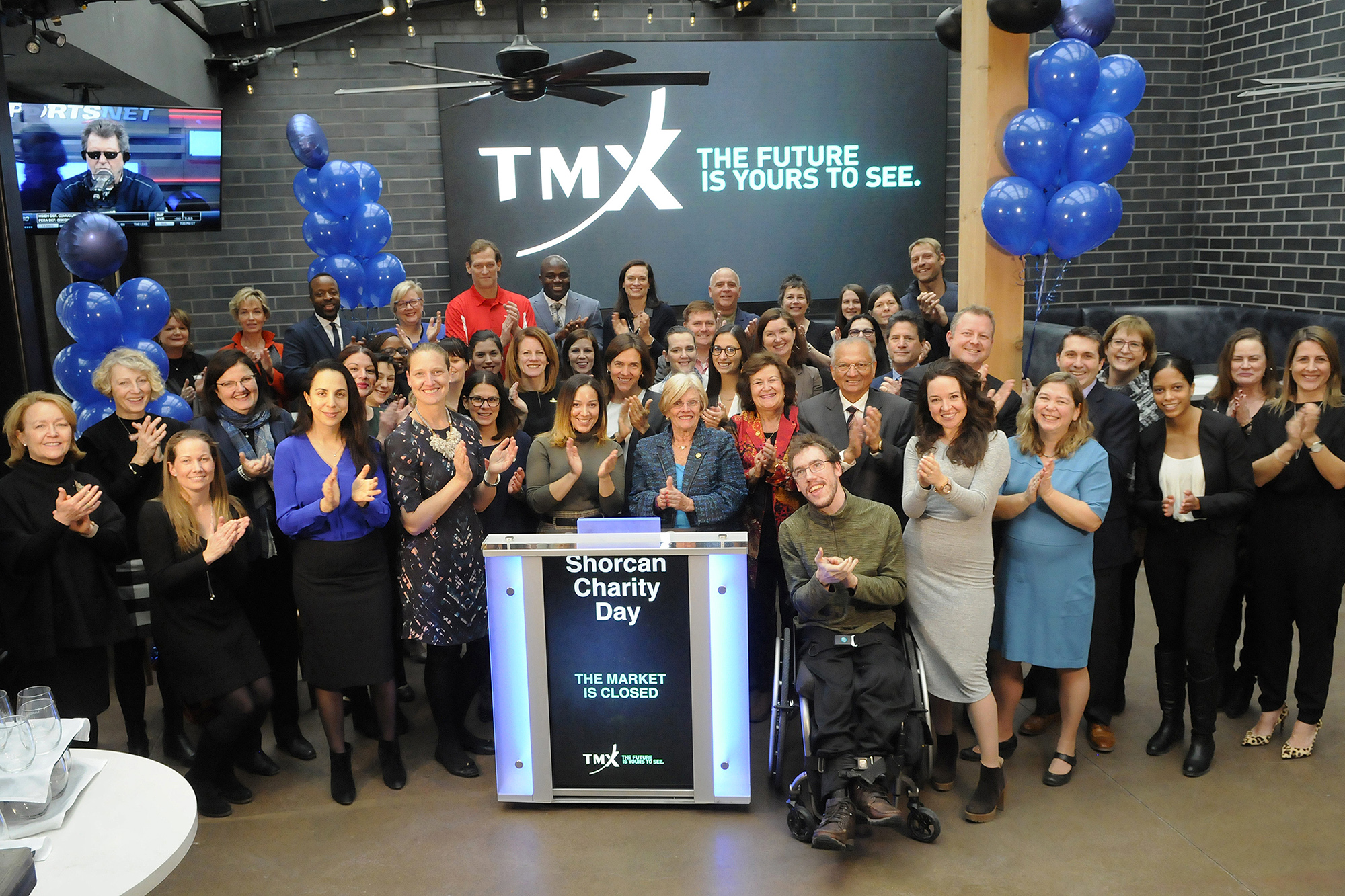 "We are proud to mark the 20th anniversary of Shorcan Charity Day in support of organizations effecting positive change across our communities and helping people in need around the country," said Peter Conroy, President, Shorcan. "We thank our valued clients for generously pledging their support over the years to help establish this event as an annual success."
The following organizations are among those that will receive funds from Charity Day proceeds:
ALS Society of Canada
Amici Camp Charity
Best Buddies Canada
Canadian Athletes Now Fund
Children's Aid Foundation
CIBC Children's Foundation
Covenant House
le Grand Défi Pierre Lavoie
Dr. Lionel Carmant - La Fondation Charles Guindon
Dr. Douglas Lee's UHN Research (Peter Monk Cardiac Centre)
Eva's Initiative for Homeless Youth
Foundation for Fighting Blindness
Indspire
Ontario Track 3 Foundation
Je Passe Partout
Le Refuge des Jeunes de Montréal
Lime Connect
Loran Scholars Foundation/Fondation Boursiers Loran
Maison de la Paix
Meningitis Research Foundation of Canada
North York Harvest Food Bank
Oak Park Neighbourhood Centre
Foundation Otis Grant and Friends
One Voice One Team
Ontario SPCA
Pierre Elliott Trudeau Elementary School (Resource Rooms)
The Rotary Club of Toronto
The Samaritan Foundation
StepStones for Youth
The Brain Campaign
Canadian Chapter of the National Niemann-Pick Disease Foundation
Toronto Youth Development
WE Charity
About TMX Group (TSX: X)
TMX Group's key subsidiaries operate cash and derivative markets and clearinghouses for multiple asset classes including equities and fixed income. Toronto Stock Exchange, TSX Venture Exchange, TSX Alpha Exchange, The Canadian Depository for Securities, Montréal Exchange, Canadian Derivatives Clearing Corporation, Trayport and other TMX Group companies provide listing markets, trading markets, clearing facilities, depository services, technology solutions, data products and other services to the global financial community. TMX Group is headquartered in Toronto and operates offices across North America (Montréal, Calgary, Vancouver and New York), as well as in key international markets including London, Beijing and Singapore. For more information about TMX Group, visit our website at www.tmx.com. Follow TMX Group on Twitter: @TMXGroup.
For more information please contact:
Shane Quinn
Head of Communications and Public Affairs
TMX Group
416-947-4609
shane.quinn@tmx.com