Canada's Public Equities Markets:
Your Opportunity
Find your next investment opportunity on Toronto Stock Exchange (TSX) and TSX Venture Exchange (TSXV)
TSX and TSXV are Canada's leading capital markets and two of the world's most recognized public equities markets for companies to raise capital and for investors to invest in their growth stories. The Exchanges are home to more than 3,400 companies, at all stages of development and across a variety of sectors, including mining, oil and gas, technology, clean technology and renewable energy, life sciences and diversified industries. Many of these companies were built, funded and grown in Canada, from coast to coast, but over 260 companies from outside our borders have also looked to TSX and TSXV to finance their development. TSX is also Canada's only home to Exchange Traded Funds (ETFs), which provide exposure to a wide range of industry sectors and asset classes, including Canadian and international equities, fixed income, commodities and currencies.
Discover a world of investment opportunity in Canada's premier public markets – your opportunity
Click on the image below to access our new eBook, which contains insight into industry sector activity in 2014 and examples of listed companies in each sector.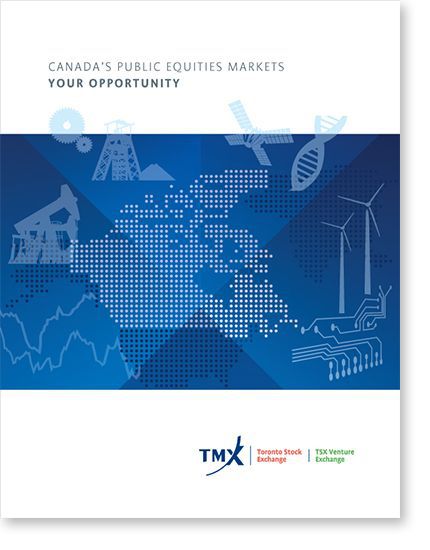 Click here to download the eBook in PDF format.
Get to know TSX, TSXV and the companies listed on the equities markets:
Detailed Markets Information
Monthly view of Canada's leading public equities markets activity.

Brought to you by the Market Intelligence Group (MiG), The MiG Report provides year-to-date data on Toronto Stock Exchange (TSX) and TSXV listings, equity financings and trading activity, by sector and region.
View a list of all companies listed on Toronto Stock Exchange and TSX Venture Exchange
---
Comprehensive Coverage of North American Markets
Access market overviews, index and company quotes from the home of TSX and TSXV.

TMXmoney.com is a comprehensive source of financial information about Canadian and U.S. capital markets, providing coverage of equities, fixed income, indices, ETFs, mutual funds, futures, options, commodities and currencies data. TMXmoney also offers a complete, searchable directory of companies listed on TSX and TSXV where investors can access a company's stock and corporate information.
Stay informed with free professional calibre data, in-depth market information and portfolio tools and alerts.
---
TMX Capital Markets Learning Centre
Learn about trading without risking your hard-earned money.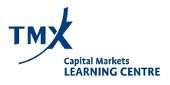 The TMX Capital Markets Learning Centre is a free, web-based information portal designed to help Canadians gain a better understanding of the markets. At the heart of the Centre lies the TMX Trading Simulator; a unique, risk-free market experience where investors can trade both equities and options in a "real world" environment.
Test drive your investment strategies today with the TMX Trading Simulator.
---
To our 2014 TSX and TSXV listings:

TSX and TSXV are proud to welcome newly listed companies to Canada's most recognized public equities markets and a world of opportunity for investors from around the globe. Listed below are new listings on the Exchanges in 2014.
TSX Listings
TSXV Listings
* Completed a Qualifying Transaction and graduated to TSX as Northern Power Systems Corp.
** Completed a Qualifying Transaction and graduated to TSX as The Intertain Group Limited
*** Graduated to TSX, April 2014
**** SFR Energy changed its name to International SoftRock Oil Company Limited (TSXV:SOF) on January 5, 2015.

As of December 31, 2014.
---
To continue to receive information about TSX and TSXV, sector activity and other insight, please complete the fields below.