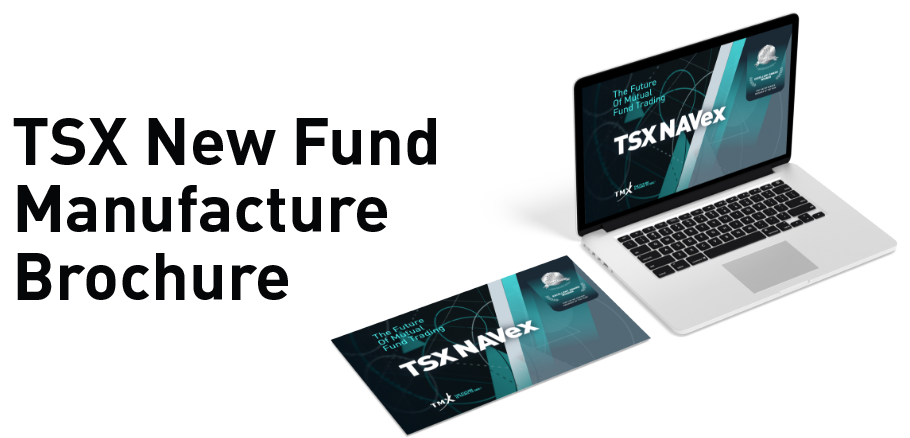 Boosting Distribution Channels for Fund Manufacturers



Opens distribution to discretionary and fee-based advice channels

Brings the unique benefits of an exchange-traded model to mutual funds

It provides fund manufacturers with complete pricing independence
To Participate on the Platform

TSX NAVex membership agreement must be signed
Products to be posted on the platform must be approved by TSX
Products must be CDS eligible
Technical certification must be finalized to confirm ability to deliver a standard NAV price file
Identification of the manufacturer's designated transfer agent and clearing broker
Apply to TSX to post a product/products on the platform.1
Once approved, funds on the platform will be assigned a ticker symbol and will be included in the TSX symbol reference feed that dealers receive today.
1 Funds on the platform are not listed on TSX and are not subject to TSX listing requirements. A precondition for funds to be posted on the platform is that they must be approved by applicable securities regulators.
Types of Funds
It is anticipated that products similar to F-series (or fee-based) funds will be posted on the platform. The platform is designed to bridge the gap between mutual fund providers or advisor-managed discretionary programs, and fee-based platforms.
TSX NAVex Series Attributes
| Attributes | Description |
| --- | --- |
| Access | Funds or series posted on the TSX NAVex platform cannot be accessed through FundServ. |
| Compensation | No Load, DCS or Trailer Fees • Strictly Fee based products |
| Distributions | Cash only distributions • Not eligible for DRIP (no fractional units) |
| Systematic withdrawals and purchases | Not eligible |
| Order instructions | Orders in units not dollar value |
| Minimum Investments | At discretion of Manufacturer |
| Corporate Class Switching | Not eligible (Budget 2016). Funds may still be part of a corporate class structure |

Trading Activity
Daily trade information will be provided to each fund manufacturer after the transactions have been executed. Intra-day buy and redemption order volume will also be available if required by the fund manufacturer.

Order information will initially include only the dealer that placed the order.

The TSX NAVex information portal provides fund manufacturers with detailed insight into the transaction activity of their funds on the platform.

Detailed sales reporting for each purchase and redemption identifying the dealer, branch and advisor
Provides for the ability to monitor for short term trading violations
Provides for the ability to monitor residency of beneficial owner positions
Monthly asset reporting
Ability to view and download multiple days of data for trend analysis
| Report Name | Description |
| --- | --- |
| Sales Report | Advisor level purchase and redemption volumes and values by dealer, branch and advisor for each of the manufacturer's funds. |
| Short-Term Trading Report | Report identifies where a redemption of a fund occurred by a beneficial owner within X days of the fund being purchased. Fund manufacturer has the ability to choose the number of days in accordance with their prospectus. |
| Residency Report | Beneficial owner, country and province of residency for each fund. Dealer and advisor for the unit holders are also identified. |
| Asset Report | Advisor level asset value by dealer for each posted fund. |