RECENTLY LISTED - Energy COMPANIES
ENERGY Updates
A collection of videos focused on insights for accessing growth capital through the public markets with industry experts.
KEY BENEFITS FOR ENERGY COMPANIES
1

Access to Capital

From 2016 to 2020, $52.5 billion was raised by Energy companies listed on TSX and TSXV.

Some of the world's largest asset managers and financial institutions, including Canadian institutional investors managing a cumulative $5 trillion dollars of assets, invest and trade in TSX and TSXV listed Energy companies.

76 equity financings were completed by Energy companies in 2020.

2

Liquidity & Trading

In 2020, 30 billion Energy company shares were traded for a total dollar value of $220 billion.

Approximately 40% of TSX's daily trading originates from investors outside of Canada. A significant part of that daily flow of trading comes from U.S.-based investors.

3

Global Visibility

Listing on TSX and TSXV provides the opportunity to attract the attention of Energy sector research analysts.

An average of five analysts cover TSX and TSXV Oil & Gas and Energy Services companies and an average of 12 analysts cover Utilities & Pipeline companies.

4

Growth Support

TSXV-listed companies have the opportunity to graduate to TSX as they grow and mature. From 2000 to 2020, over 150 Energy companies have graduated from TSXV to TSX.

5

Tailored Listing Criteria

Listing requirements are tailored to a company's industry sector, stage of development, financial performance and operational resources. Our listing requirements better accommodate junior companies, including exploration stage Oil & Gas companies.

6

Experienced Exchange Staff

Relevant oil and gas business experience, including in-house geologists.
#1
in the world for number of Oil & Gas issuers
18%
of the world's Oil & Gas public companies are listed on TSX/TSXV
$11B
Oil & Gas equity capital raised in the last 5 years
GET MORE INFORMATION
CAPITAL SOLUTIONS
For early-stage companies looking to gain access to public venture capital - or larger, established companies looking to take their business to the next level, going public may be the right fit for your company. Our two-tiered market offers financing and liquidity solutions that can be as unique as the businesses it serves.
GO PUBLIC - WAYS TO GET LISTED
There are multiple pathways to listing on TSX and TSXV.
TSX and TSXV Listed company initiatives
TSX30
TSX30™ is a ranking of the top 30 performers on Toronto Stock Exchange over a three-year period. As our flagship program, it offers unique insight into important market trends, and shines a light on compelling companies driving progress across industries and around the world.
TSX VENTURE 50®
The TSX Venture 50 is a ranking of the top ten performers on TSX Venture Exchange over the last year, comprising of 10 companies from five industry sectors.
This annual program showcases the top performing listed companies from five industry sectors, including: Clean Technology and Life Sciences, Diversified Industries, Energy, Mining, and Technology. Selection is based on 3 equally weighted criteria: share price appreciation, trading volume, and market capitalization growth.
The key benefit of this two-tiered market (TSX Venture Exchange and TSX) is the potential for early-stage growth companies to list on TSXV, grow and when ready, graduate to TSX. Nearly 36% of current TSX-listed technology companies started on TSXV.
36
New Energy Listings
in the past 5 years
$27B
Energy Equity Capital Raised
in the past 5 years
132B
Energy Shares Traded
in the past 5 years
All data as of December 31, 2021.
Market Intelligence Report (MiG)
Provides year-to-date data on listings, financings and trading activity across Toronto Stock Exchange and TSX Venture Exchange, broken down by sector and region.
GET OUR MIG REPORT
LEARN ABOUT TSX AND TSXV
WHAT INDUSTRY EXPERTS ARE SAYING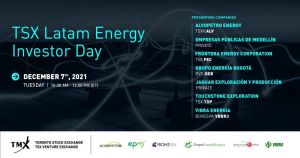 January 7, 2022
Toronto Stock Exchange and TSX Venture Exchange hosted Virtual Latam Energy Investor Day on Tuesday, December 7, 2021, where we heard from Latin American Energy Companies (public and private).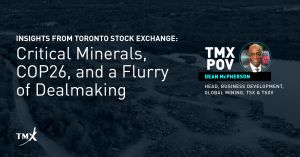 December 16, 2021
As delegates descended on Glasgow last month for the United Nations COP26 summit, there was a predictable focus on mining. Specifically, the mining of green and critical metals that will be required to meet the anticipated demand increase in order to decarbonise the transportation sector, amongst others.