RECENTLY LISTED - LIFE SCIENCES COMPANIES
LIFE SCIENCES Updates
A collection of videos focused on insights for accessing growth capital through the public markets with industry experts.
KEY BENEFITS FOR LIFE SCIENCES COMPANIES
1

Access To Capital And Future Financing Opportunities

Going public can provide your company with financing opportunities to grow your business while expanding and diversifying your investor base by giving you access to pools of capital in Canada, the U.S. and globally.

2

Facilitate Growth

As a public company, your shares can be used as a currency substitute to acquire target companies, instead of a direct cash offering.

3

Increase Visibility And Prestige

Going public enhances your company's visibility which can provide your company with a higher profile and greater credibility.

4

Provide Liquidity For Shareholders

Becoming a public company establishes a market for your company's shares, providing your investors with an efficient and regulated vehicle in which to trade their shares.

5

Create Employee Incentive Mechanisms

Your employees can participate in the ownership of your company and benefit from being shareholders. This can serve to ensure stronger employee commitment to your company's performance and success.
$36 billion
in market capitalization
52%
of Life Sciences companies currently listed on TSX are graduates
Subscribe to our Quarterly Life Sciences newsletter
Get the latest Life Sciences news, listings, upcoming events, and more to your inbox.
CAPITAL SOLUTIONS
For early-stage companies looking to gain access to public venture capital - or larger, established companies looking to take their business to the next level, going public may be the right fit for your company. Our two-tiered market offers financing and liquidity solutions that can be as unique as the businesses it serves.
GO PUBLIC - WAYS TO GET LISTED
There are multiple pathways to listing on TSX and TSXV.
TSX and TSXV Listed company initiatives
TSX30
The TSX30 is a ranking of the top 30 performers on the Toronto Stock Exchange, over a three-year period based on dividend-adjusted share price appreciation.
As an annual flagship recognition program for TSX's top performers to provide insights into the broad market trends that have been driving the best returns for investors, the TSX30 tells an important story; there is value in looking at the performance of small and mid-cap companies across TSX.
TSX VENTURE 50
The TSX Venture 50 is a ranking of the top ten performers on the TSX Venture Exchange over the last year, comprising of 10 companies from five industry sectors.
This annual program showcases the top performing listed companies from five industry sectors, including: Clean Technology and Life Sciences, Diversified Industries, Energy, Mining, and Technology. Selection is based on 3 equally weighted criteria: share price appreciation, trading volume, and market capitalization growth.
The key benefit of this two-tiered market (TSX Venture and TSX) is the potential for early-stage growth companies to list on TSXV, grow and when ready, graduate to TSX. Nearly 36% of current TSX-listed technology companies started on TSXV.
30
new Life Sciences listings
in 2021
$3.8 billion
Life Sciences equity capital raised
in 2021
154
Life Sciences financings
in 2021
All data as of June 30.
Market Intelligence Report (MiG)
Provides year-to-date data on listings, financings and trading activity across Toronto Stock Exchange and TSX Venture Exchange, broken down by sector and region.
GET OUR MIG REPORT
LEARN ABOUT TSX AND TSXV
WHAT INDUSTRY EXPERTS ARE SAYING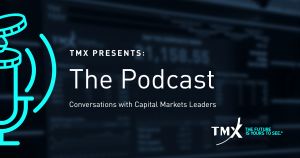 July 26, 2022
TSX's Daniel Lubienietzky speaks with Bloom Burton & Co's Chairman and CEO, Brian Bloom about the Canadian healthcare investing landscape. Hear how Brian Bloom's degrees in biochemistry and biological sciences, coupled with his stints at various New York investment banking firms, laid the foundation of his success in co-founding Bloom Burton & Co. Brian Bloom also highlights many of the strengths of Canada's healthcare investment ecosystem and gives a unique perspective on where things are going.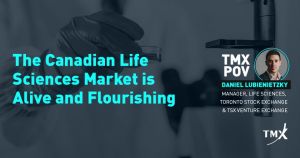 March 23, 2021
In many ways, 2020 started out quite optimistically for Canadian markets -- according to Statistics Canada unemployment was at a five-year low of 5.6% at the end of 2019 and the S&P/TSX Composite Index* had a very robust 22% return from the previous year. All signs seemed to point to continued momentum into 2020.

A detailed guide for public companies looking to dual list.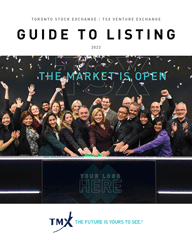 Market overview, listing requirements & vehicles, and sector profiles.

A more detailed guide to listing on TSX and TSXV.