RECENTLY LISTED - U.S. COMPANIES
CONVERSATIONS WITH U.S. COMPANIES LISTED ON TSX OR TSXV
A collection of videos focused on insights for accessing growth capital through the public markets with industry experts.
KEY BENEFITS FOR U.S COMPANIES
1

Access to Capital

Going public can provide your company with financing opportunities to grow your business via expansion of operations, hiring or acquisitions.

2

Long-Term Growth

As a public company, your shares can be used as a currency substitute to acquire target companies, instead of a direct cash offering. Using shares for an acquisition can be a tax-efficient and cost-effective vehicle to finance such a transaction.

3

Increase Visibility And Prestige

Going public enhances your company's visibility. Greater public awareness gained through media coverage, publicly filed documents and coverage of your shares by sector investment analysts can provide your company with a higher profile and greater credibility.

4

Provide Liquidity For Shareholders

Becoming a public company establishes a market for your company's shares, providing your investors with an efficient and regulated vehicle in which to trade their shares.

5

Create Employee Incentive Mechanisms

Your employees can participate in the ownership of your company and benefit from being shareholders. Share ownership can have an immediate and tangible value to employees, and can be used as a recruitment incentive.
$1.7B
equity capital raised by U.S companies in 2020
10
new U.S listings in 2020
GET MORE INFORMATION
CAPITAL SOLUTIONS
For early-stage companies looking to gain access to public venture capital - or larger, established companies looking to take their business to the next level, going public may be the right fit for your company. Our two-tiered market offers financing and liquidity solutions that can be as unique as the businesses it serves.
GO PUBLIC - WAYS TO GET LISTED
There are multiple pathways to listing on TSX and TSXV.
Financing Alternatives for U.S. Companies At All Stages
RAISE DIFFERENT. ALTERNATIVE SOURCES OF CAPITAL FOR STARTUPS
February 22, 2021
Hosted by NYC Innovation Collective, the online panel of industry experts on startup funding discussed innovative ways to fund business expansion for growing startups.
Taking U.S. Companies Public Through a Capital Pool Company (fireside chat with Manny Padda, Founder of New Avenue Capital)
February 10, 2021
Learn about how CPC Founder, Manny Padda, recently helped take Tantalus Systems (TSXV: GRID), a North-Carolina based Smart Grid solutions provider public via the Capital Pool Company Route.
For those unfamiliar with CPC's - they essentially operate in a similar fashion to SPAC's but on a smaller level. These are clean operating vehicles that are publicly-listed on the TSX Venture Exchange and with seasoned directors/officers on the board look for a private company to vend in. It's usually an easier, less costly, and more efficient route for earlier-stage companies.
$8.6B
Equity Capital Raised by U.S companies
in the past 5 years
37
New U.S Listings
in the past 5 years
187
Dual-listed companies
All data as of December 31, 2020 unless otherwise noted.
Market Intelligence Report (MiG)
Provides year-to-date data on listings, financings and trading activity across Toronto Stock Exchange and TSX Venture Exchange, broken down by sector and region.
GET OUR MIG REPORT
LEARN ABOUT TSX AND TSXV
WHAT INDUSTRY EXPERTS ARE SAYING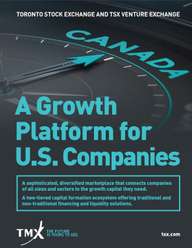 Learn about the benefits of going public & the Canadian markets.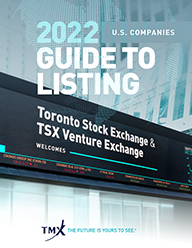 Considerations for U.S. Companies including listing requirements.